Consultation & Project Planning
Serious welding-related technological consultation has always had top priority with DALEX Schweißmachinen GmbH & Co. KG. Firstly, we listen to your wishes so we know what you are looking for. This puts us in the picture to be able to provide you with the exact solution along with quality improvement, raising productivity and process rationalisation- all revolving around the latest in welding technology.
Come to DALEX and you will be awarded a personal consultant, who will examine your situation intensely and find the right welding technology and then the best application in terms of your budget. If you are lucky, then we can apply one of our standard products or a cost-effective modified product as alternative. Process-optimised deployment inside your own production site can be designed & developed and assembled into customized individual special welding plant and fabrication cells.
Find out more about us…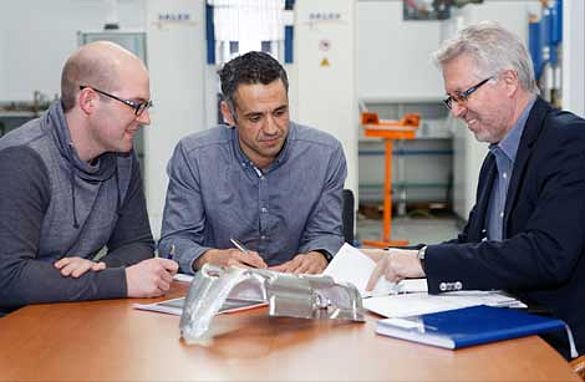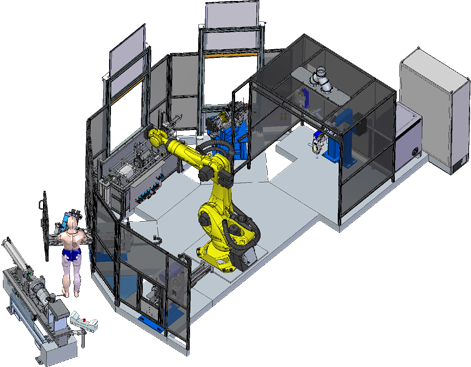 Design & Development
The last couple of years have seen a rapid increase in the number of specialized precision welding machines and fabrication cells, currently over 60% of our business is devoted to these special machines. This allows us at DALEX to say we are definitely one of the leading forces in resistance welding technology. New clients bring new challenges so we are constantly investing in improving product & service quality. DALEX has the experienced engineers and technicians as well as a Design & Development department which is supported by testing facilities which can only be described as "second to none".
Once we have established the needs of your branch, you are kept in the picture as we develop your own individual concept for a solution – leading into the future and economical.
Our T-Center
Testing & prototype welding under realistic conditions for optimum transferability into your production.
This T-Center (Technology Center) for DALEX Schweißmachinen GmbH & Co. KG supports the technological testing work carried out for the client. Spot, projection and seam welding machines in AC current, 3-phase DC, middle-frequency and KE technology are permanently on-call when there is a need to carry out test welds and demonstrate welding processes which show the client the improvements best suited for his application.
Eliminating errors before they appear – the T-Center offers the advantage, for the welding task and preparing improvised welding tools in relation to the component geometry. Furthermore, we can inspect and report on the welded joint metallografically using photomicrograph. Diagnosis and commissioning as well as function monitoring of rapidly moving sequences are provided by DALEX via modern high-frequency video equipment. In view of the extraordinary range of equipment, flexibility and specialist know-how in the T-Center, possibilities and demands on prototype welds and zero-series is covered in full. And we can offer you the possibility, to rent welding plant, so that these can be put to use by your workers in our T-Center. Alternatively, there is also the possibility for the client to borrow the machine and use it at his location.
Additionally, our T-Center offers practice-related training sessions for your staff – users get double benefits, first safe operational practice and secondly experience in day-to-day production speeds.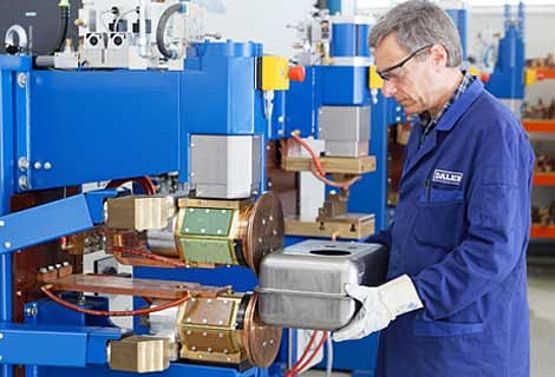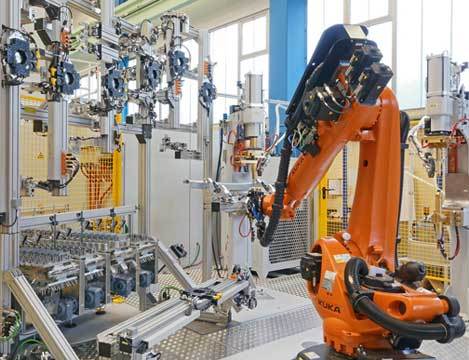 Machine & Plant Construction
Our standard machines have been designed & built to be robust and powerful, to fulfil modern standards and solve complex welding tasks. These are put to a wide range of uses in industrial & welding trade workshops – they are reliable and productive.
Your company is one of a kind; highly valued standards are no longer enough? We are fully aware that competitiveness means raised productivity and process optimisation. That is why we at DALEX use the word flexibility. Making use of our special know-how, we offer you modified standard machines, machines in modular design or design & develop highly complex and customized special machines and fabrication cells in accordance with your needs, so that you increase not only efficiency, but also working speeds.
Training & Machine Service
Qualified knowledge is the foundation for fault-free plant operation, satisfied workers and professional work. Being experts in resistance welding technology, we can offer training sessions in theory and practice. Our knowledge is passed on to your people, on your premises or in our T-Center – always in direct contact with machines and applications.
As mentioned before, we measure ourselves on your level of satisfaction; we will do everything in our power to present you with a stable, fault-free production environment. Part & parcel of this All-round-Service-Package is for you, and that means inspection and care & maintenance, the idea being to minimize downtimes. Long service life is secured with a wide spectrum of spare parts and consumables as well as useful accessories. We are proud of our qualified DALEX Service-Team; a team which is one of the fastest in this branch and that is why they are first to be on-site, to give you the service you need, to maintain or to repair.